Beim Gateway of India, Bombay 1970. (Presse-Aufnahme der indischen überregionalen Wochenzeitung "Blitz". Vgl. den folgenden Artikel). Das Buch in meiner Hand ist die "Dialektik der Aufklärung" von Horkheimer & Adorno. Zu der Zeit als wir etliche Wochen im innersten Zentrum von Bombay lebten (im kleinen 'Carlton-Hotel'), habe ich das mittlerweile berühmte philosophische Werk studiert. (Es wurde mir von meinem kolumbianischen philosophischen Freund Rubén Jaramillo empfohlen, der 1967/68 im gleichen Haus im Studentendorf Schlachtensee in Berlin wohnte.) Unser Sohn, von den Goa-Fischern - und dann auch von uns - "Boxi" genannt, ist auf dem Bild 1 Jahr + 2 Monate alt. Leider habe ich nur ganz wenige Aufnahmen von meinem 1 ½ - jährigen Indien-Trip (inklusive Kathmandu und Ceylon).
(Der Name meiner damaligen Liebsten ist hier von mir aus dem Text entfernt, weil wir uns in dieser Zeit und danach immer mehr auseinander entwickelt haben. Siehe auch unten den Zeitungsartikel über mich im Gießener Anzeiger von 2008.)
Gateway of India: 1911 betrat King Georg V.
The Crown Jewel of the British Empire (d.i. Indien) an dieser Schiffsanlege-Stelle. 1924 wurde durch jenen Triumphbogen dieses Ereignis architektonisch gewürdigt. Derselbe gehört jetzt zur Flaniermeile des Zentrums von Bombay (Apollo Bunder). Das obige Foto wurde an der linken Seite des Gateway gemacht.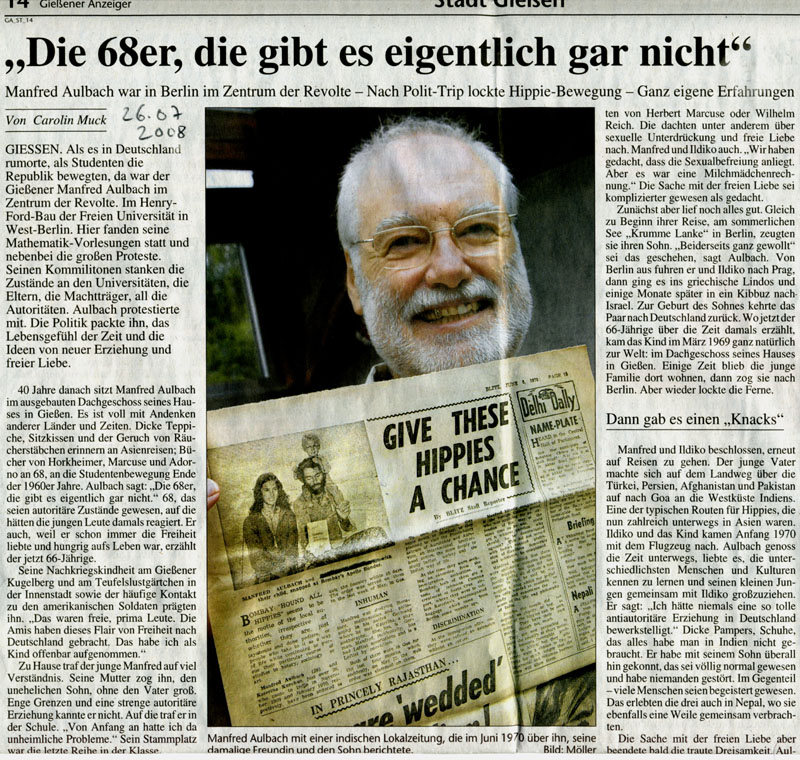 Anmerkungen:
1. Die kleine Tochter des SDS-Sekretärs (Schlotterer) war ca. 3 Jahre alt.
2. Die indische Zeitung 'Blitz', in der jener Artikel über uns erschien, war keine 'Lokalzeitung' sondern ein überregionales Wochenblatt, das man in ganz Indien kaufen konnte. Die Redaktion der Zeitung hatte ihren Sitz in Bombay.
________________________________________________________________________________
Hier ist ein interessantes Foto von 1973 aus der Wikimedia vom Eden-Hotel im Zentrum von Kathmandu, in welchem wir 1970 für längere Zeit, ca. 2 Monate lang, lebten. Wir wohnten hinter solchen holzgeschnitzten Fenstern (meines Wissens) genau hier im ersten Stock (oder evtl. einen Stock höher) mit Blick auf den Basantapur-Platz mit seinen Marktständen und exotischen Gebäuden. (Das damalige Eden-Hotel liegt - resp. lag - am Anfang der jetzt so genannten "Freak-Street". Unsere Adresse war: Hotel Eden, 5/1 Basantpur.)
Ca. August 1970 (es war in jener Zeit, als wir dort wohnten), wurde jener Hashish-Shop im ersten Stock eröffnet. Hinter dem Eingang Parterre, dort wo jetzt die Buben sitzen, war eine dunkle Tschai-Stube, aus welcher in dicken Schwaden der Haschisch-Qualm der diversen Freaks zog, die dort ihre Chillums stopften und/oder ihre Grass-Sticks rauchten. Dabei lief meist die Platte Abbey Road von den Beatles ab. Zu dem obigen gelungenen Foto vom Hotel Eden kann ich noch einen drauf setzen. Denn in einem meiner Erinnerungsordner fand sich der damalige Flyer zur Neueröffnung jenes Shops: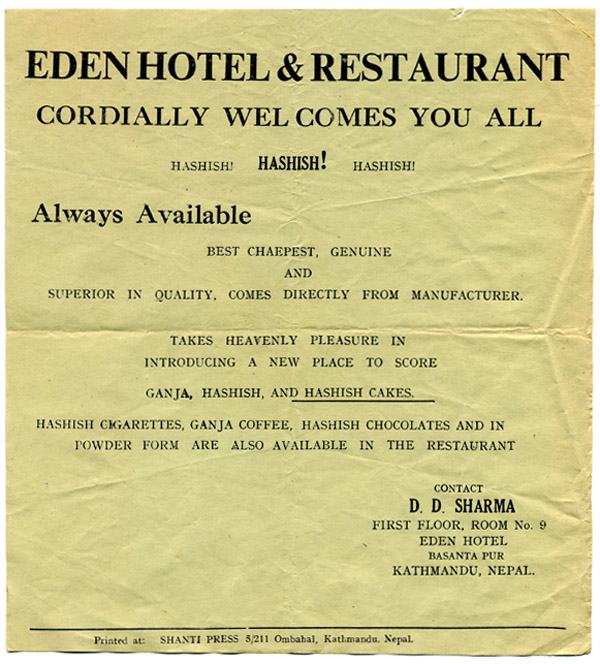 _____________________________________________________________________________________________________________________________________ _
Hier hat man eine Goa-kurz-vor-Sonnenuntergangs-Stimmung mit dem typischen Licht und den Farben dieser gesegneten Landschaft. Ich hatte Ende 1969 ein freundliches Haus in den Dünen am Calangutte-Beach bei den dortigen Fischern gemietet und wartete auf die baldige Ankunft meiner Freundin mit unserem gemeinsamen Kind (siehe Foto oben).
India_Goa_Vagator_Beach_General_view.jpg (800 × 600 pixels, file size: 86 KB, MIME type: image/jpeg): Vagator Beach, general view, Image by myself (Dominik Hundhammer, 2003. GNU head Permission is granted to copy, distribute and/or modify this document under the terms of the GNU Free Documentation License, Version 1.2 or any later version published by the Free Software Foundation; with no Invariant Sections, no Front-Cover Texts, and no Back-Cover Texts. A copy of the license is included in the section entitled "GNU Free Documentation License". Creative Commons license: Creative Commons Attribution Creative Commons Share Alike This file is licensed under the Creative Commons Attribution ShareAlike 3.0 License. In short: you are free to share and make derivative works of the file under the conditions that you appropriately attribute it, and that you distribute it only under a license identical to this one. Official license
Jeden Abend - die ganze Zeit, die ich dort war (viele Monate, wenn man alles zusammenrechnet) - gab es einen gigantischen Sonnenuntergang mit berauschenden Farbspielen über dem Meer.
India_Goa_Nightfall.jpg (640 × 480 pixels, file size: 29 KB, MIME type: image/jpeg)Goan Nightfall, Image by myself (Dominik Hundhammer, 2003.)GNU head Permission is granted to copy, distribute and/or modify this document under the terms of the GNU Free Documentation License, Version 1.2 or any later version published by the Free Software Foundation; with no Invariant Sections, no Front-Cover Texts, and no Back-Cover Texts. A copy of the license is included in the section entitled "GNU Free Documentation License". Creative Commons license: Creative Commons Attribution Creative Commons Share Alike This file is licensed under the Creative Commons Attribution ShareAlike 3.0 License. In short: you are free to share and make derivative works of the file under the conditions that you appropriately attribute it, and that you distribute it only under a license identical to this one. Official license
_____________________________________________________________________________________
Ceylon März 1971